April 30, 2023
Posted by:

Forex Wiki Team

Category:

Free Forex EA
Advanced AI Scalper Review
Forex trading is a complex and dynamic market, and traders often use automated trading systems to increase their efficiency and profitability. One such trading system is the Advanced AI Scalper EA. In this article, we will explore the features, parameters, and performance of this Forex robot.
Strategy
The EA for Metatrader 4 uses a unique scalping trading algorithm to open and close trades rapidly on your behalf. Transactions are supported by price fluctuations in supply and demand zones.
DOES NOT use martingale, grid, arbitrage or hedging elements
Transactions are always protected by a preventive stop loss.
Intelligent output functions
– Prevention of losses by transferring to breakeven.
– Smart trailing stop.
– Multilevel profit-taking. Target profit levels are located at a distance of x pips from each other.
Recommendations –
Minimum balance of $100 account –
Pair : EURUSD, GBPUSD (any pair)
Time Frame : M5 (any time frame)
Best Brokers List :
The Advanced AI Scalper EA with any broker and any type of account, but we recommend our clients use one of the top forex brokers listed below:
BROKER NAME
REGISTER
Year Founded
Headquartered
Leverage
Minimum Deposit
Regulating
Register
2009

🇨🇾 Cyprus

🇦🇺 Australia

🇧🇿 Belize

🇦🇪 Emirates

1:1000
$5
ASIC, CySEC , IFSC
Register
2007

🇦🇺 Australia

🇨🇾 Cyprus

🇧🇸 The Bahamas

🇸🇿 Seychelles

1:1000
$200
ASIC, SCB, FSA
Register
2008

🇨🇾 Cyprus

1:Unlimited
$10
CySEC, FCA, FSCA, FSA, BVI
Register
2009

🇧🇿 Belize

1:3000
$1
IFCS
Register
2009

🇧🇿 Belize

1:2000
$10
CySEC, IFSC
Register
2010

🇦🇺 Australia

1:500
$200
FCA , ASIC, DFSA
Register
2011

🇬🇧 England

1:500
$25
CySEC
Register
2006

🇪🇭 Ireland

1:400
$100
CBI, CSEC, PFSA, ASIC, BVIFSC, FFAJ, SAFSCA,ADGM, ISA
Advanced AI Scalper EA Settings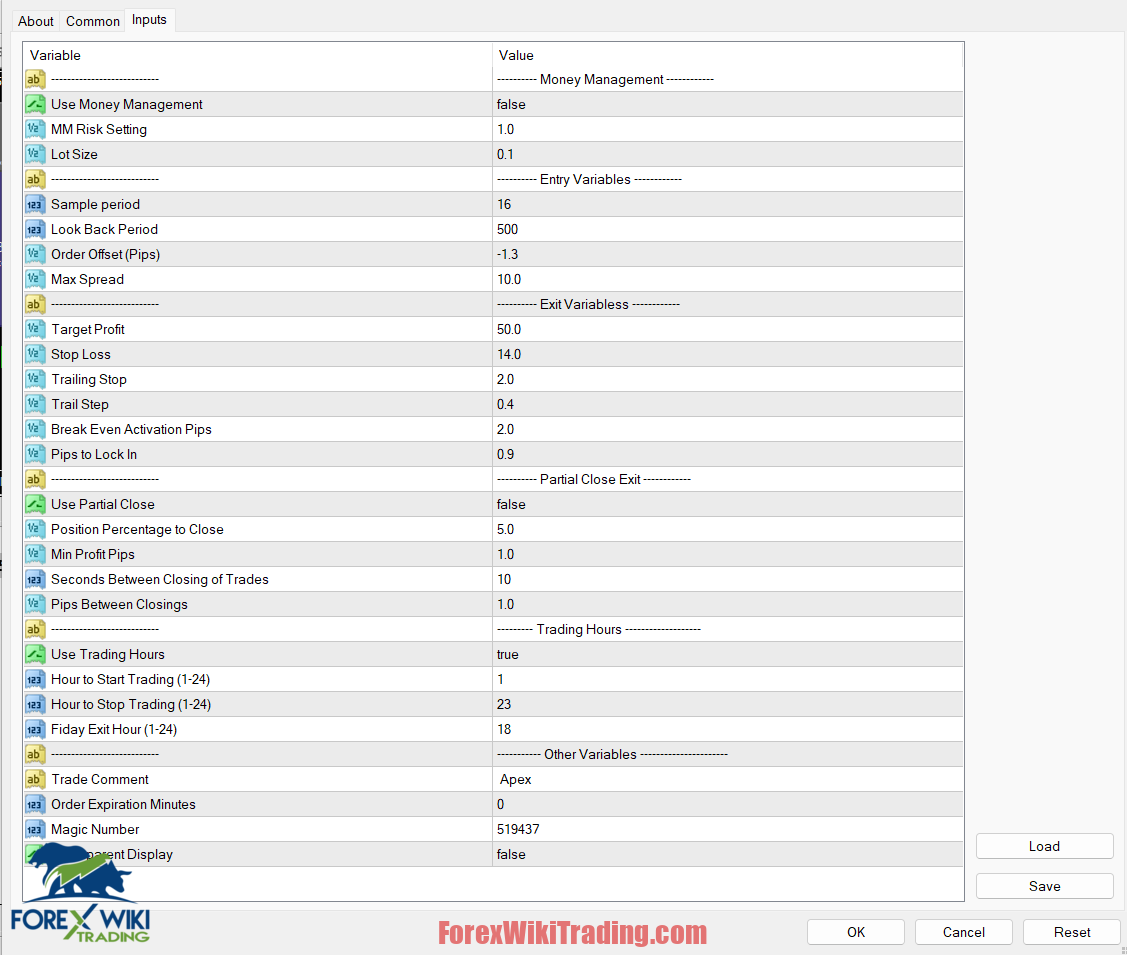 Input parameters
• Choose Money Management – lot management: fixed (Fixed lots) or dynamic (Dynamic lots).
• Risk Setting – risk settings for dynamic lot size.
• Fixed Lot Size – fixed lot size, if Fixed lots is selected above.
• Max Spread Avg – the maximum average spread size (over the last 20 ticks) at which pending orders are allowed.
• Max Volatility – the maximum allowable volatility, beyond which trading is prohibited.
• Max # of Orders Replaced – the maximum number of orders that will be replaced after the weekend or a dangerous spread / volatility.
Max Pending Orders – the maximum number of pending orders placed on the market at the same time.
• Max Order Distance – the maximum distance by which it is allowed to re-order. Measured in pips.
• Order Offset – the distance in pips to offset the order entry levels from the demand and supply zones.
• Target Profit – take profit in pips.
• Use Break Even – set to true to use the breakeven transfer.
• BE Activation Pips – the number of profit pips to activate the breakeven function.
• Initial Stop Loss – the initial stop loss in pips.
• Trailing Stop – trailing stop in pips.
• TS Activation – the number of pips in profit for activating a trailing stop.
• Trailing Step – increment to move stop loss. For example, 0.5 pips. The trailing stop will move every 0.5 pips in the direction of profit.
Multiple Entry Orders – if true, several orders with different take profits will be placed at a distance of x pips.
• Number of orders to open – the number of orders with various take profit levels to be set.
• Target Profit Spacing – the interval in pips for a multi-stage take profit (if Multiple Entry Orders = 'true').
• Friday Exit Hour – the hour on Friday at which all pending orders will be deleted. The value is from 1 to 24.
• Order Expiration Minutes – the expiration time of orders; set the value to 0 if your broker does not require an expiration time when sending pending orders.
• Max Order Retry – the maximum number of attempts to enter or delete orders.
Initial Balance – the initial balance. Select the entire account balance or specify the balance value that Apex Scalper Expert Advisor is allowed to use in trading.
• Specified Balance – if 'Specified Balance' is selected in the parameter above, specify here the size of the balance that Apex Scalper will use.
• Broker Digits – 4 or 5 decimal places at the broker. Five-digit quotes are recommended.
• Enable Broken Trade Check – check for problems with deals on each tick. For example, loss of internet connection, "trade flow busy", price changed before setting stop loss, etc.
• Delete Orders When Advanced AI Scalper EA is Removed – if 'true' is selected, all pending orders will be deleted when the EA is removed from the chart or when reinitializing.
User Defined Tag – a label that will be added to the comment field of orders. It can be changed by the user.
• Magic Number – magic number for Apex Scalper. When launching multiple copies of the advisor on one account, be sure to use a unique number for each copy.
Choose a broker with a minimum stop level of 0.
For maximum performance with Apex Scalper, it is highly recommended that you use a fast connection with your broker.
Analysis
According to the sales page on MQL5, Advanced AI Scalper EA  shows an increase of 108% in 26 weeks with a reliability indicator of 3/5. Over this period, the maximum drawdown was 17.3%, and the ratio of win and loss was 86.9%, and losses were 13.1%. The average retention time is 16 minutes, and the risk reward ratio is 6-1, which corresponds to most scalping systems.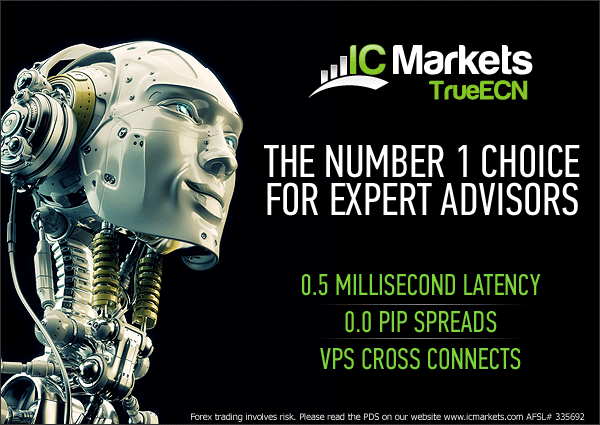 Conclusion
Advanced AI Scalper EA shows potential, as the vendor seems to have extensive experience in the Forex market. Overall, the Advanced AI Scalper EA can be a valuable tool for traders who prefer low-risk scalping strategies and are willing to test it out on a demo account before trading with real money.
Download Advanced AI Scalper EA :
We highly recommend trying the Advanced AI Scalper EA with ICMarket demo account. Also, familiarize yourself with and understand how this system works before using it on a live account.