November 11, 2023
Posted by:

Forex Wiki Team

Category:

Free Forex EA
Breakout Catcher EA Review
In the dynamic world of forex trading, the Breakout Catcher EA emerges as a powerful tool designed to capitalize on market breakouts. This automated trading system employs a sophisticated strategy that focuses on identifying recent significant highs and lows to execute well-timed trades. What sets the Breakout Catcher EA apart is not just its simple yet effective strategy but also the advanced entry calculations and exit algorithms that drive its success.
Version: 1.2
Terminal: MT4
Year of issue: 2023
Working pairs: EURUSD
Recommended timeframe: H1
Minimum Deposit: $100
Best Brokers List
Breakout Catcher EA works with any broker and any type of account, but we recommend our clients use one of the top forex brokers listed below:
BROKER NAME
REGISTER
Year Founded
Headquartered
Leverage
Minimum Deposit
Regulating
Register
2007

🇦🇺 Australia

🇨🇾 Cyprus

🇧🇸 The Bahamas

🇸🇿 Seychelles

1:1000
$200
ASIC, SCB, FSA
Register
2008

🇨🇾 Cyprus

1:Unlimited
$10
CySEC, FCA, FSCA, FSA, BVI
Register
2009

🇧🇿 Belize

1:2000
$10
CySEC, IFSC
Register
2009

🇧🇿 Belize

1:3000
$1
IFCS
Register
2009

🇨🇾 Cyprus

🇦🇺 Australia

🇧🇿 Belize

🇦🇪 Emirates

1:1000
$5
ASIC, CySEC , IFSC
Register
2010

🇦🇺 Australia

1:500
$200
FCA , ASIC, DFSA
Register
2011

🇬🇧 England

1:500
$25
CySEC
Register
2006

🇪🇭 Ireland

1:400
$100
CBI, CSEC, PFSA, ASIC, BVIFSC, FFAJ, SAFSCA,ADGM, ISA
Breakout Catcher EA Settings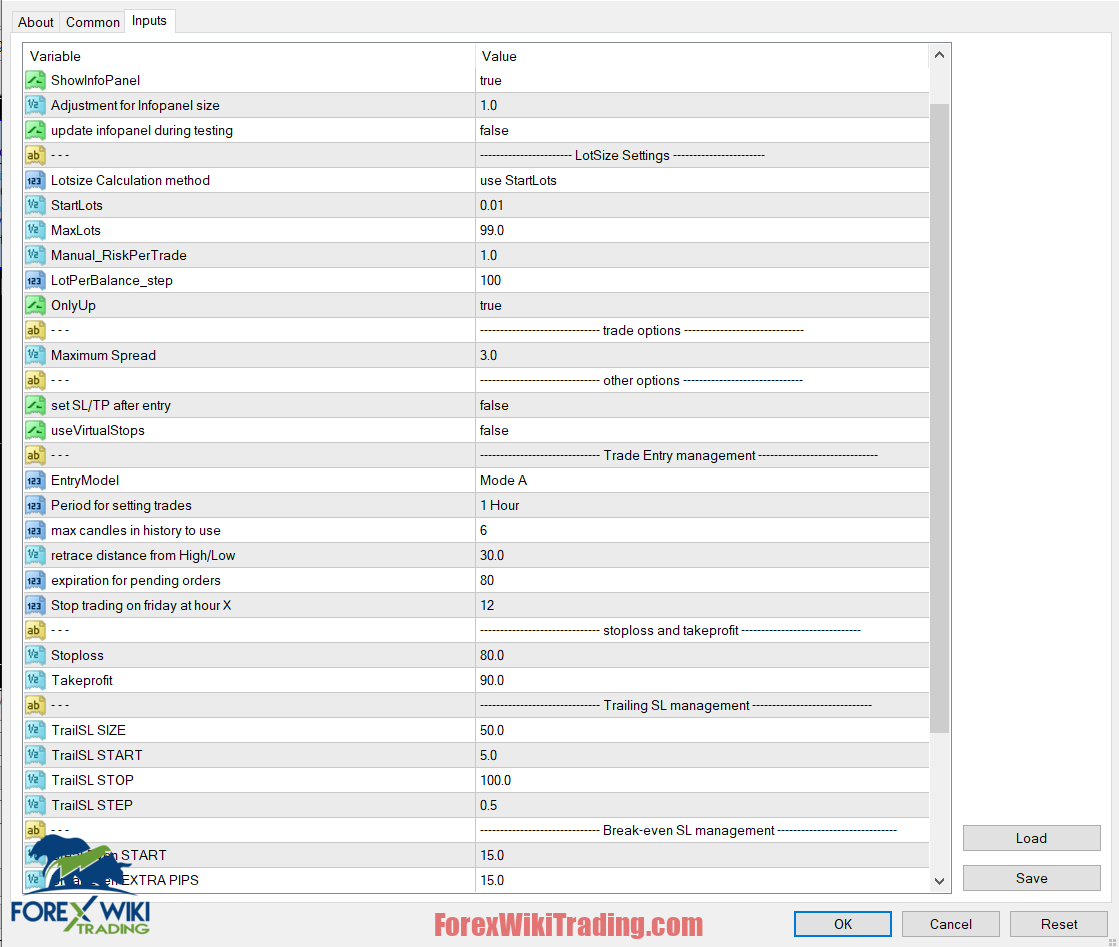 The Breakout Catcher EA provides a range of customizable parameters to suit individual preferences:
EA's Individual Settings: Magic number, trade comment, and info panel activation.
Lotsize Settings: Determine lot size based on balance or risk per trade.
Maximum Allowed Spread: Set the maximum spread allowed.
Virtual SL Option: Opt for a virtual stop-loss to conceal its location from the broker.
Entry Parameters: Choose from three entry models, set entry timing, and adjust various parameters to control entry strictness.
Stop-loss and Take-profit: Set desired stop-loss and take-profit levels.
Trailing SL: Customize trailing SL parameters, including start, stop, size, and modification criteria.
Breakeven Settings: Configure breakeven parameters with an option to add extra pips.
High/Low Trailing SL: Activate high/low trailing SL with an option to stop at breakeven.
Time-based Trailing SL: Initiate trailing SL after a specified duration.
Advanced Trade Management Techniques
The Breakout Catcher EA incorporates a range of trade management techniques to optimize performance and minimize risk:
Trailing Stop Loss (SL): The EA employs a Trailing SL with multiple parameters to finely control its function.
Move to Break-even: At a certain point, the EA can automatically move to break-even, with an option to add extra pips for increased security.
Trailing SL based on Highs/Lows: This feature allows for trailing SL based on recent highs and lows, with an option to run it only until the breakeven level is reached.
Trade Duration-based Trailing SL: Limiting exposure after a move has lost momentum, this feature enhances risk management.
Safe and Effective Trading
Unlike risky scalper EAs, Breakout Catcher focuses on safe trading practices. It refrains from using grid/martingale techniques and maintains a strict stop-loss at a safe distance. The EA is designed to protect every trade with a stop-loss, ensuring a secure trading environment.
Risk Management Options
The Breakout Catcher EA offers various risk management options, including the ability to set a specific risk per trade. This flexibility allows traders to tailor their risk exposure according to their risk tolerance and trading goals.
Optimized for Success
Developed primarily for EURUSD, the Breakout Catcher EA demonstrates its success with breakout strategies. Backtests reveal promising results on multiple pairs without the need for additional optimization.
Key Features:
Safe Trading: Each trade is safeguarded by a stop-loss.
Insensitivity to Spread or Slippage: The EA is designed to perform well regardless of spread or slippage variations.
No Over-Optimization Risk: The absence of an optimization process minimizes the risk of overfitting.
No Risky Money Management Techniques: Grid or martingale techniques are not used, ensuring a prudent approach to managing funds.
High Hit Rate: With over 80% of trades being profitable, the EA demonstrates a high success rate.
Stress Tested: The EA undergoes rigorous testing with 99.90% tick data, including variable spread and slippage simulation.
Conclusion
While the Breakout Catcher EA offers a robust and promising trading solution, it's crucial to remember the inherent risks in forex trading. Always trade responsibly with money you can afford to lose. Prioritize testing the EA on demo accounts or live accounts with low lot sizes before considering higher-risk trades. As with any investment, knowledge and caution are key to success in the ever-evolving world of forex trading.
Download Breakout Catcher EA
Please try for at least a week an XM demo account. Also, familiarize yourself with and understand how this free forex Tool works before using it on a live account.