February 24, 2020
Posted by:

Forex Wiki Team

Category:

Free Forex EA
Hi Forex Wiki Friends ,
Forex Short Pips EA Description :
Attention! The EA's work in the tester does not display its work in real time. Strategy Tester does not allow trading all 9 pairs at the same time!
MiEA (My Invest EA) is a multicurrency adviser that simultaneously controls 9 pairs from one window. It has a wide selection of settings, as well as a trading panel for manual work, or to adjust the work if necessary.
The MiEA 3 version is a legendary version which in 2018, starting at 3000$, made a profit of  +37 000$ on a live account that was successfully withdrawn.
Investor password (filter history from 10.16.2018 or by comment on orders. Prior to this period, the investor was trading)
Login: 941609
Password: wbgPxzv3
Server: Edge09
Broker: Pepperstone
What's New in MiEA 3.1
In version 3.1, the entry point is stabilized, now EA works as a scalper, with short goals. Controls are updated, bugs and errors are fixed. Added increase in the lot (can be disabled in the settings). The principle of profit taking has been changed. The profit level in pips for each order is added to the settings. Settings for the current market. Reduced deposit burden.
Installation
The EA is installed in only one window of the EURUSD timeframe M1. For stable operation, you need a deposit of $ 2,000 (preferably from $ 5,000) and a leverage of 1: 500. MiEA only works with quotes of 5 characters.
Forex Short Pips EA Settings:
Description of parameters:
Languale …………………………… Selecting the language in which the panels will be displayed
Risk ………………………………………… Risk as a percentage of the balance of the order
StopLossProcent ……………… Stop as a percentage of the balance
ProfitPips ………………………………………… Profit size in pips for each order
UseUPlot ………………………………………… Use lot increase for new orders
pEURUSD ………………………… The name of the pair. Write as displayed in the terminal
PipsStep_1 ……………………… .. Indent in pips from level breakdown
pEURUSD_Step ……………. Step between orders for the grid
pGBPUSD ………………………… The name of the pair. Write as displayed in the terminal
PipsStep_2 ………………………. Indent in pips from level breakdown
pGBPUSD_Step ……………. Step between orders for the grid
pAUDUSD ……………………… ..Name of the pair. Write as displayed in the terminal
PipsStep_3 ……………………… Pips indent from level breakdown
pAUDUSD_Step …………… Step between orders for the grid
pNZDUSD ……………………… ..Name of the pair. Write as displayed in the terminal
PipsStep_4 ……………………… Pips indent from level breakdown
pNZDUSD_Step …………… Step between orders for the grid
pUSDJPY ………………………… The name of the pair. Write as displayed in the terminal
PipsStep_5 ……………………… Pips indent from level breakdown
pUSDJPY_Step ……………. Step between orders for the grid
pUSDCAD ……………………… ..Name of the pair. Write as displayed in the terminal
PipsStep_6 ……………………… Pips indent from level breakdown
pUSDCAD_Step …………… Step between orders for the grid
pUSDCHF ……………………… ..Name of the pair. Write as displayed in the terminal
PipsStep_7 ……………………… Pips indent from level breakdown
pUSDCHF_Step …………… Step between orders for the grid
pEURJPY ……………………… ..Name of the pair. Write as displayed in the terminal
PipsStep_8 …………………… .. Indent in pips from level breakdown
pEURJPY_Step …………… Step between orders for the grid
pGBPJPY ……………………… ..Name of the pair. Write as displayed in the terminal
PipsStep_9 …………………… .Indent in pips from level breakdown
pGBPJPY_Step ………… ..Step between orders for the grid
MobClosPair ………………… The name of the pair for closing orders through the MT4 mobile terminal
TimeStart …………………… .. Time to start work. Measured in hours
TimeEnd ………………………. End time. Measured in hours
MaxOrders …………………… The maximum number of all orders
SpeedEA …………………… Data refresh rate in milliseconds
Magic …………………………… .Advisor Order Marker
Forex Short Pips EA Results :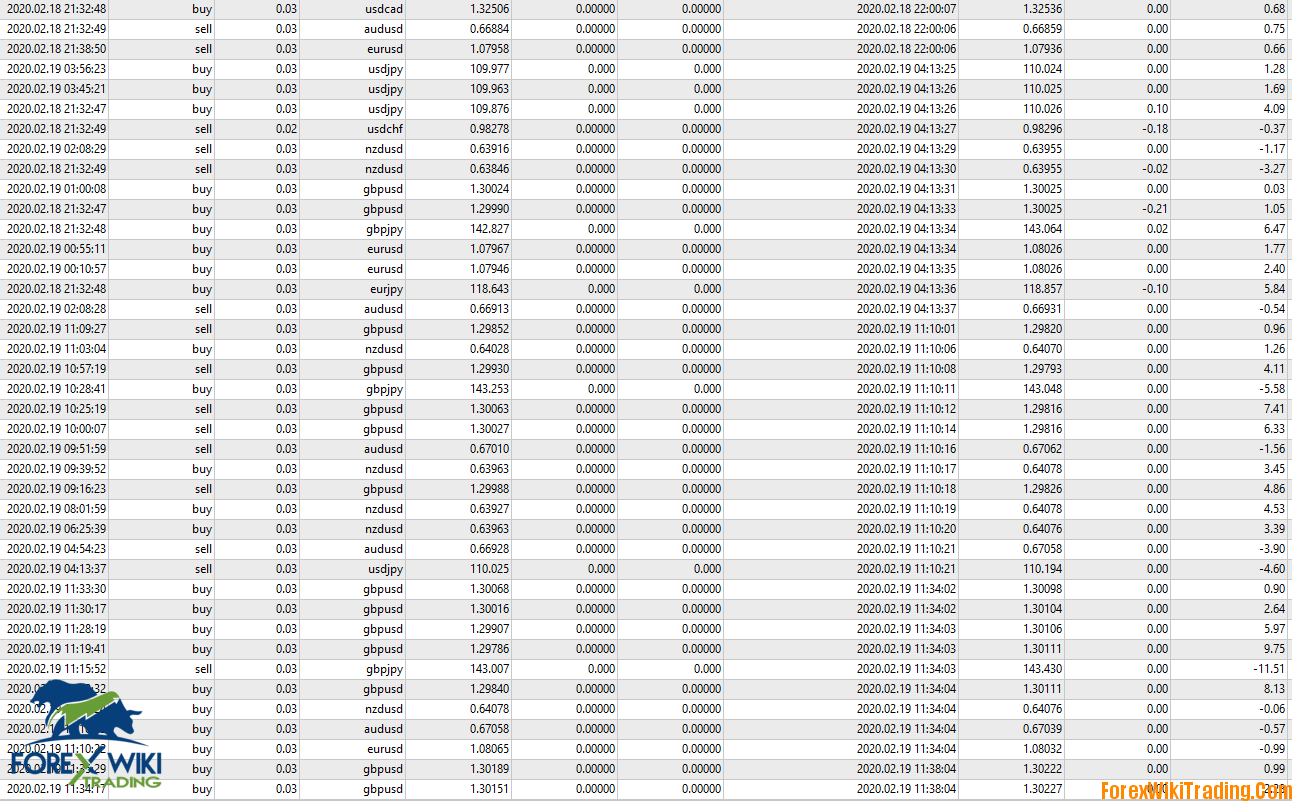 Forex Short Pips EA Download :