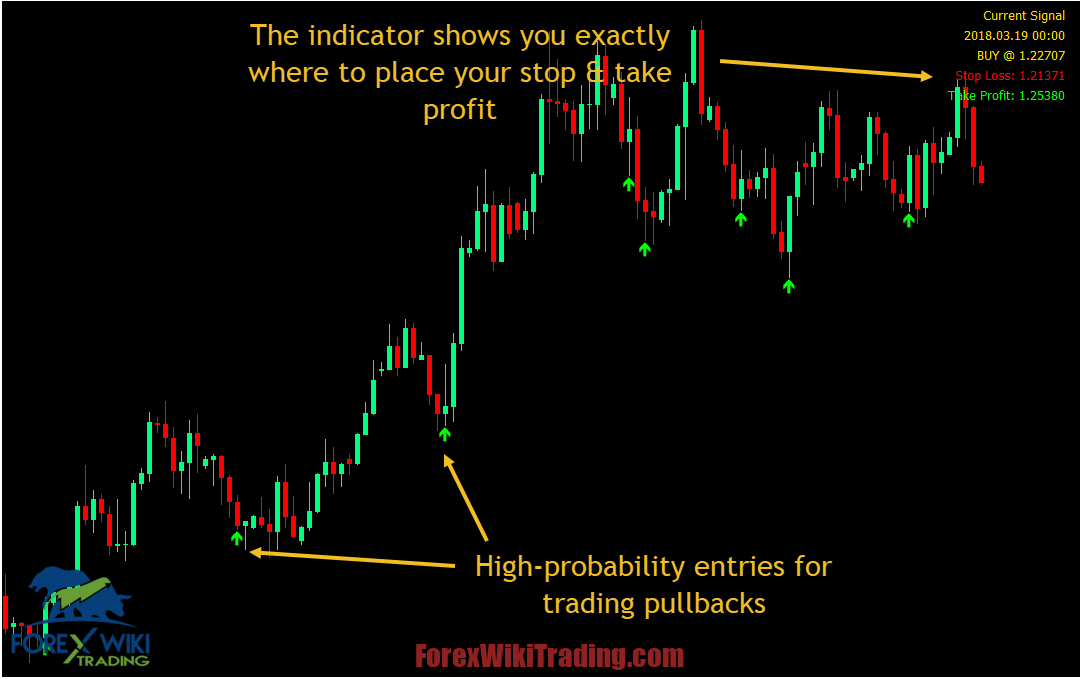 Pull-Back Solution Indicator -[Worth $199]- Free Version
Hi Forex Wiki Friends,
Pull-Back Solution Indicator Description : 
Best Pullback Solution Trading System 100% Non-Repaint high winning Buy & Sell Signals
As Close as it gets to a Complete, AUTOMATED Trading Solution: this system Shows You High-Probability Entries and Exactly Where To Place Your Stop Loss & Take Profit…
Features
* Works with any Currencies, indices, stocks, commodities, and futures on MT4
* 100% no Repaint
* A complete trading system
* All time frames- good for all scalpers, day traders and position traders
* Pop-up window sound alerts on new signals
This would have been a dream strategy. It involves only 2 simple steps:


Step 1

: Identify the current market trend.


Step 2

: Wait for a pullback (you may call it retracement, or dip/rally, they're all the same thing). And then enter the market in direction of the current market trend.
Simple, isn't it? And if I had to guess, 90% of retail traders would get better results if they stick with this simple pullback strategy, instead of chasing that one elusive "magic" system.
Today we're taking pullback trading to a whole new level. Here's why:
Pullback Solution is probably the best indicator ever developed for trading pullbacks.
Let me show you the last 7 trade setups that Pullback Solution gave me on GBP/USD. And then will explain exactly how it works:
First

, the Pullback Solution indicator automatically identifies the current market trend.
If the current trend is up, then Pullback Solution will only look for buy (long) trade setups.
On the other hand, if the current trend is down, then Pullback Solution will only look for sell (short) trade setups.
This "Trend Filter" criteria may sound simple, in principle. But don't underestimate it. Because, as you will see in a moment, this principle can single-handedly make or break a trading strategy.
Second

, once the current trend has been determined, Pullback Solution will scan the pair for high-probability entries for trading pullbacks.
And then the indicator will print on your chart the very best trade entries that have the highest probability of winning.
Once a trade entry is triggered, the indicator will show you the 

best place to place your stop loss and take profit.



In other words, Pullback Solution gives you EVERYTHING on a silver platter: High-probability trade entry, stop loss, take profit…


It does all of the hard work for you. You no longer have to guess when to enter or where to set your stop loss & take profit. Everything's taken care of. You don't have to lift a finger.
By the way, did you notice that…
The default settings for our stop loss and take profit ALWAYS ensure that the Reward:Risk ratio of EVERY trade is 2:1.
Which means, when you lose, you'll lose only a little. But when you win, you'll win BIG.
And that also means you only need to win less than 50% of the time in order to make a profit!

The Pullback Solution system works equally well for day traders, swing traders, and long-term traders…
Here's another important feature that you need to be aware of:
Our indicator filters out a lot of false signals, so you'll get the VERY BEST trade setups.
Plus… you're in total control. For example, you can change the color of any text, entry, stop loss & take profit.
We're Not Done…
First off, you get the Pullback Solution system. And you'll also get:



– Currency strength indicator (see item's pictures) that is the hidden theory of big banks to get money from the market. This indicator help to choose the right pair to trade and always jump in the right trend.
– Symbol and Timeframe changer is very helpful indicator that allows you to switch the pairs by one-click. It makes your trading time more comfortable.
Broker Requirement :
Pull-Back Solution Indicator Settings:
Pull-Back Solution Indicator Results:
EURUSD BacktestCheck out these amazing backtest results of a "Proof Of Concept" trading system we've built around this Pullback Solution indicator:
EURUSD Backtest
GBPUSD Backtest
Download Pull-Back Solution Indicator :