May 3, 2022
Posted by:

Forex Wiki Team

Categories:

Forex Trading System, Free Forex EA

Forex Trade Manager Software MT4 Review
Forex Trade Manager Software it's your need! Do you believe that placing orders in marketplaces where prices can fluctuate in a fraction of a second should be as straightforward as possible? When you open order in Metatrader, you must first open a window where you may input the opening price, stop loss and take profit, as well as the trade size.
Capital management is critical when trading the financial markets since it allows you to keep and grow your initial investment.
So, when you're ready to place an order, how big of trade should you open? How much of your whole deposit should you risk on this single trade? What is the profit potential of this investment and what is the risk-to-reward ratio?
Assume you have a tool that accomplishes all of this for you. You open a chart, do a market analysis, and mark the entrance point, defense point (stop loss), and target (take profit) with horizontal lines. Finally, you indicate the degree of risk you are willing to undertake in this transaction, e.g. as a percentage of available money, and the application provides:
with the stated risk and stop loss level, the permissible transaction size
Values for Stop Loss and Take Profit in pips, points, and account currencies.
The ratio of risk to reward
All that's left now is to open the deal by pressing the proper button on the panel.
If you're a scalper who needs to enter and complete trades fast without setting defenses or targets, the Forex Trade Manager Software MT4 l has everything you need. You may create predefined order parameters and open them quickly by pressing the 'Buy' or 'Sell' button.
You may also close or delete orders directly from the Forex Trade Manager Software MT4, where you can terminate all pending orders with a single button, pick a specific type of pending order, or remove just profitable or loss-making transactions.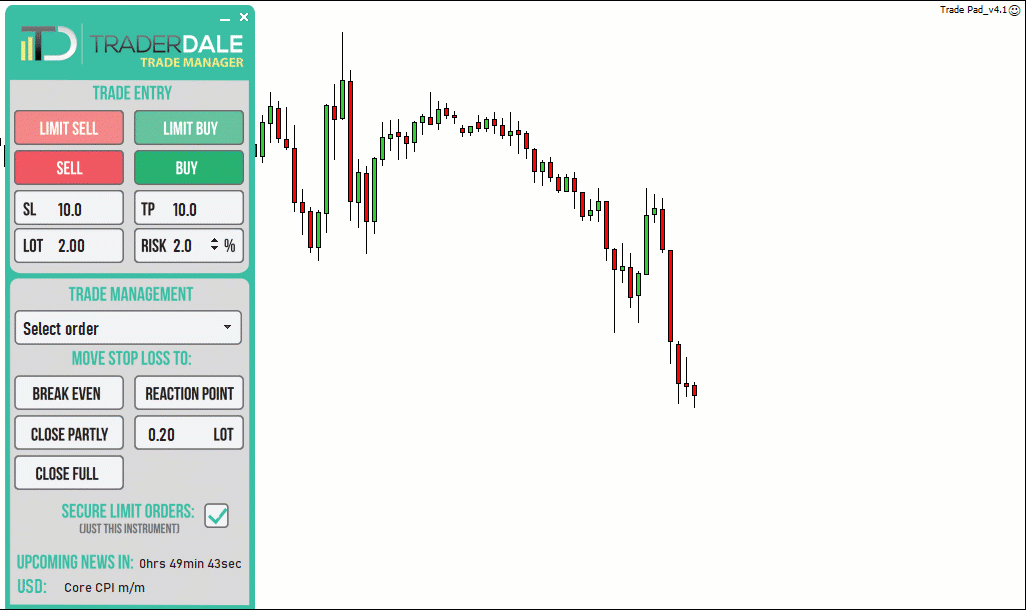 How Place ORDER?
With only one click, you may place your trade orders!
You're ready to put your BUY and SELL orders with just one click after adjusting your percent risk per transaction, Stop Loss, and Take Profit.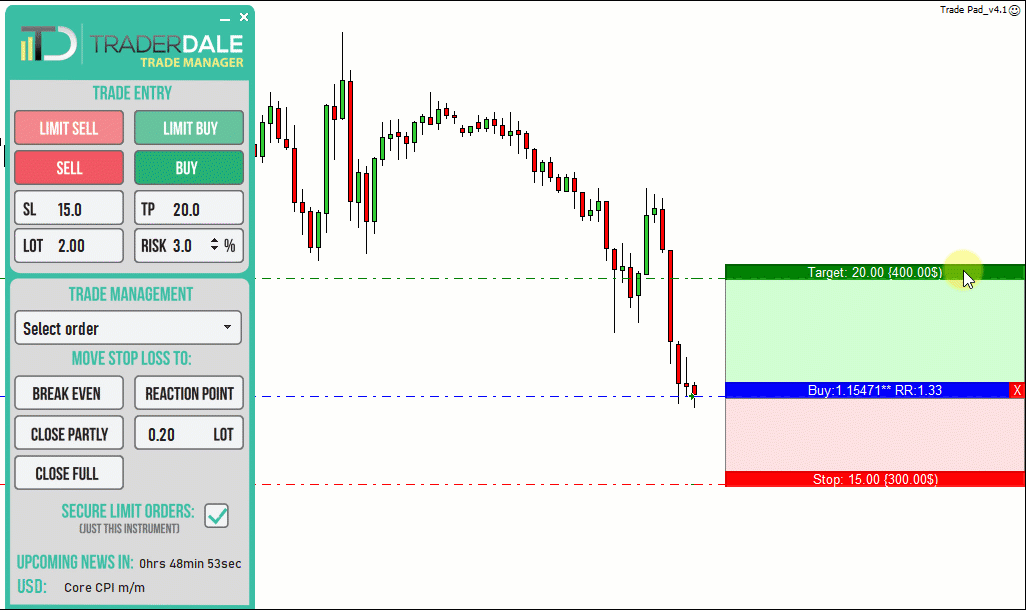 TAKE PROFIT & STOP ADJUSTING
It merely takes one click to change your trade's Take Profit or Stop Loss.
The program will constantly show you how much money you will make if the trade makes a profit and how much money you will lose if the deal makes a loss.
It also displays the trade's Risk to Reward Ratio. As you move your TP and SL, this recalculates automatically.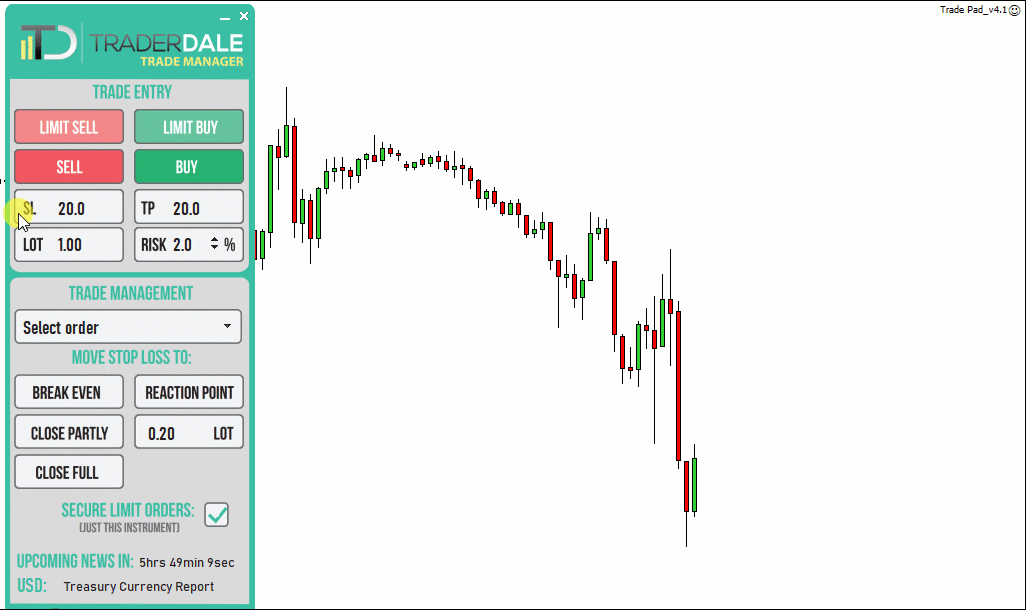 ALERT AND PLACE LIMIT ORDER
Limit Orders are straightforward and error-free to place using Forex Trade Manager Software MT4.
To begin, you must configure the Trade Entry, Take Profit, and Stop Loss settings.
The Limit is then set with a single click.
There's also a symbol that activates the Alert feature. You're good to go with only one click. With your mouse, you can easily relocate this alert.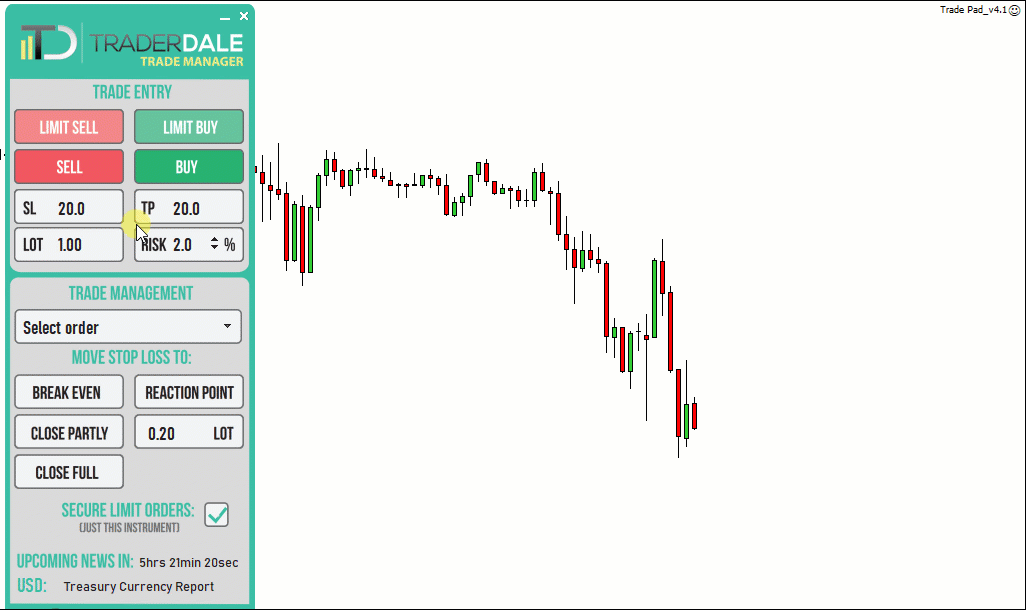 Risk
This function manages your risk for you!
Set your risk per trade first. The Risked $ amount will stay the same regardless of how you change your Limit Order.
The program recalculates the transaction size automatically, ensuring that you always risk the same amount of money.
This is a super-easy method for risking the same amount of money on each transaction, regardless of the Stop Loss pip value.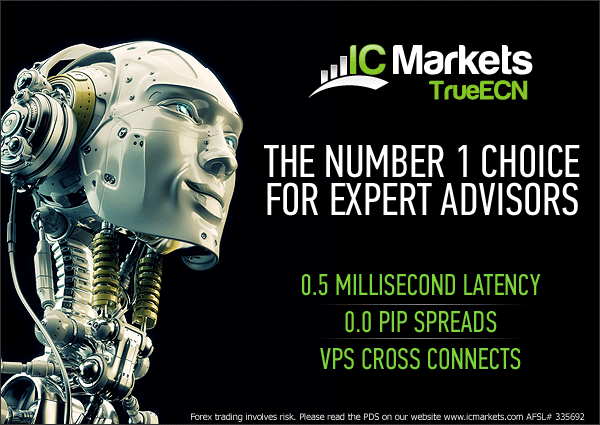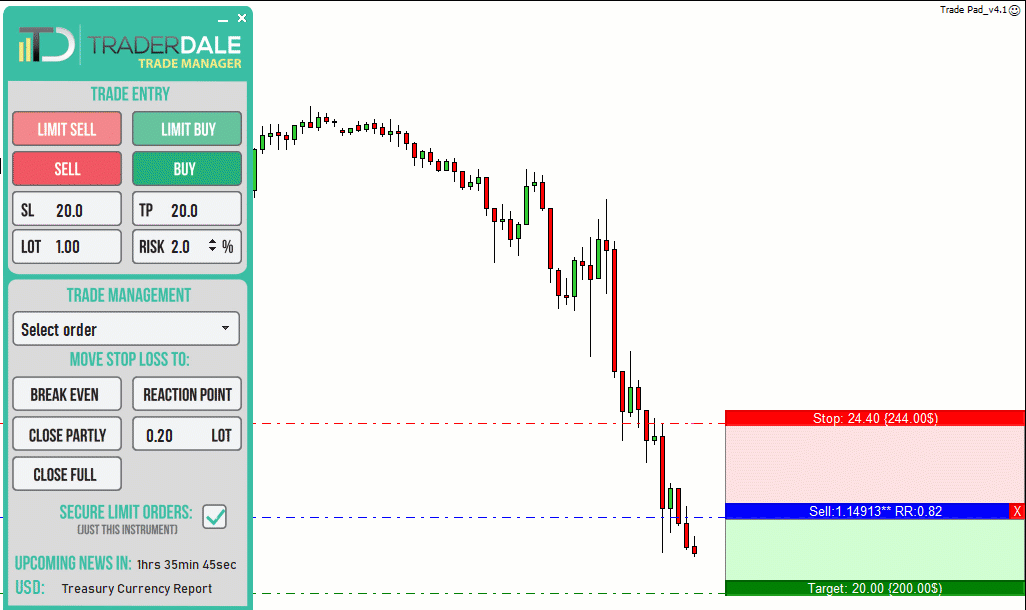 TO BREAK EVEN, MOVE STOP LOSS.
Move your Stop Loss order to Break Even with a single click.
Are you in a profitable transaction and want to lock it in so you don't have to risk anything? Then just select BREAK EVEN from the drop-down menu.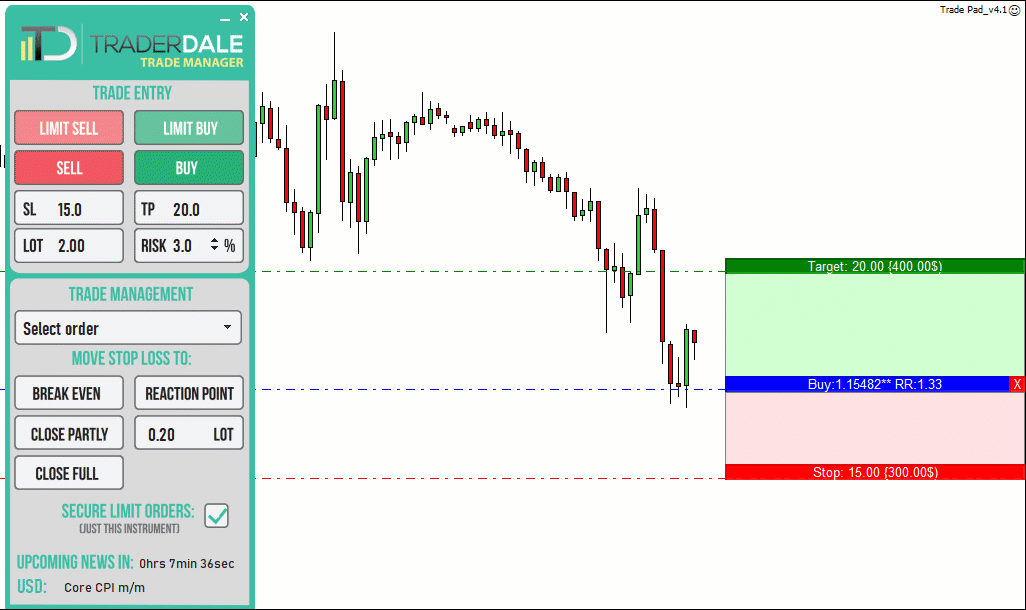 CHANGE THE STOP LOSS TO THE REACTION POINT
Move your Stop Loss order to Reaction Point with a single click (turning point).
In my trading, I want to secure a profitable trade by shifting the Stop Loss to the point when the price reacted to a Support/Resistance and changed in my direction. The "Reaction Point" is the name given to this location.
The reaction's peak or low point is known as the Reaction Point.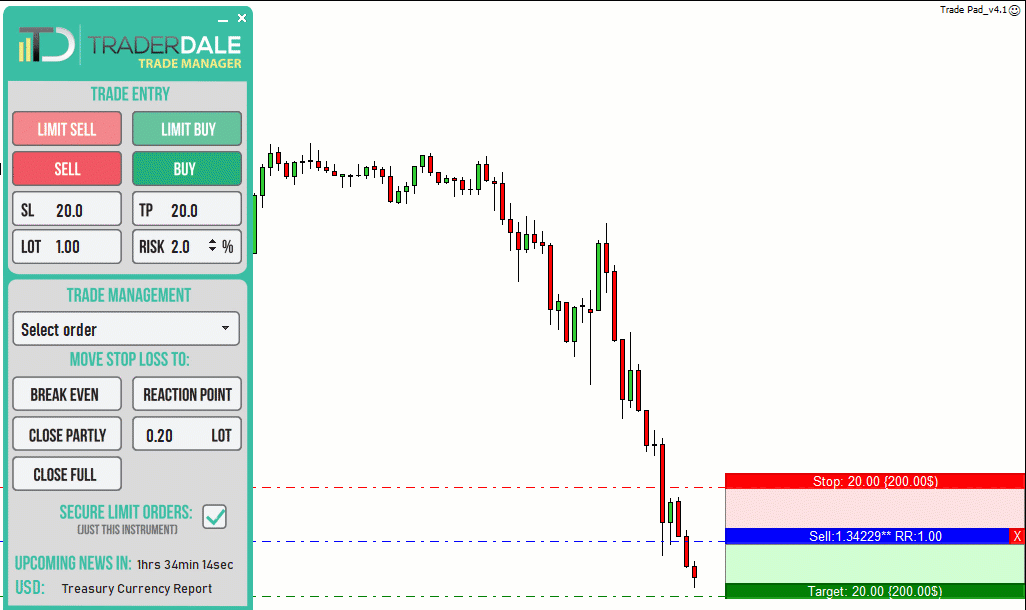 A PART OF THE POSITION MUST BE CLOSED
Forex Trade Manager Software MT4 makes closing a portion of your position a breeze.
Simply enter the amount you'd want to shut and press the CLOSE PARTLY button!
This function is particularly useful in cases when speed is critical.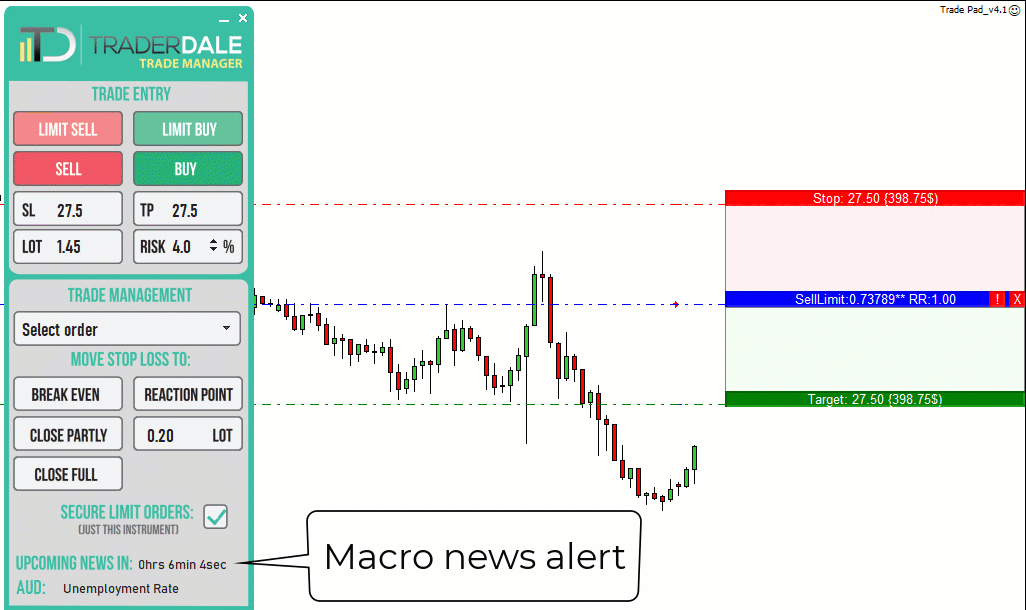 LIMITED ORDER SECURITY
Protects your Limit Orders from price surges caused by macroeconomic news.
This one-of-a-kind tool analyzes the Macro news calendar and withdraws your Limit Orders just a few minutes before the announcement.
It automatically restores your Limits after the Macro news release!
In this manner, you may place your Limit Orders without fear of them being canceled due to a sudden news-related increase!
Isn't it amazing?

Download Forex Trade Manager Software MT4
We highly recommend trying Best Indicator For Binary Options for at least a week with ICMarket demo account. Also, familiarize yourself with and understand how this system works before using it on a live account.