November 3, 2023
Posted by:

Forex Wiki Team

Category:

Free Forex EA
Night Hunter Pro EA Review
Night Hunter Pro EA is an advanced automated Expert Advisor designed for forex traders seeking profitable night scalping strategies during the closing of the American trading session. This powerful tool incorporates a range of unique, tried-and-tested developments to help traders achieve their financial goals. In this article, we will delve deep into Night Hunter Pro EA, exploring its features, recommended currency pairs, and key settings for optimal results.
Product Description
Night Hunter Pro EA is developed with a focus on preserving your capital and adheres to a risk-averse approach by avoiding toxic trading methods such as martingale, grid, or arbitrage. It offers traders a secure and reliable way to trade forex by utilizing Stop Loss and Take Profit mechanisms to protect your trading account from significant losses. This expert advisor can be employed on a wide array of trading instruments and is celebrated for its user-friendly installation process and minimalistic configuration requirements.
Version: 7.1
7 Terminal: MT4
Year of issue:2023
Working pairs: GBPUSD, EURUSD, EURCHF, USDCAD, USDCHF + CHFJPY, AUDCAD, EURCAD, EURAUD
Recommended timeframe: M5
Best Brokers List
Night Hunter Pro EA with any broker and any type of account, but we recommend our clients use one of the top forex brokers listed below:
BROKER NAME
REGISTER
Year Founded
Headquartered
Leverage
Minimum Deposit
Regulating
Register
2007

🇦🇺 Australia

🇨🇾 Cyprus

🇧🇸 The Bahamas

🇸🇿 Seychelles

1:1000
$200
ASIC, SCB, FSA
Register
2008

🇨🇾 Cyprus

1:Unlimited
$10
CySEC, FCA, FSCA, FSA, BVI
Register
2009

🇧🇿 Belize

1:2000
$10
CySEC, IFSC
Register
2009

🇧🇿 Belize

1:3000
$1
IFCS
Register
2009

🇨🇾 Cyprus

🇦🇺 Australia

🇧🇿 Belize

🇦🇪 Emirates

1:1000
$5
ASIC, CySEC , IFSC
Register
2010

🇦🇺 Australia

1:500
$200
FCA , ASIC, DFSA
Register
2011

🇬🇧 England

1:500
$25
CySEC
Register
2006

🇪🇭 Ireland

1:400
$100
CBI, CSEC, PFSA, ASIC, BVIFSC, FFAJ, SAFSCA,ADGM, ISA
Night Hunter Pro EA Settings
Characteristics and Key Settings
To customize Night Hunter Pro EA according to your trading preferences and risk tolerance, it provides the following characteristics and settings:
Trading Pair: Choose from the list of supported currency pairs that align with your trading strategy.
Magic Number: This unique identifier helps you distinguish the EA's trades from other trading activities.
Fix Lot: If Risk % is set to 0, you can manually specify the lot size for each trade.
Risk %: Specify the percentage of your account balance you're willing to risk on a single trade. This allows you to control the level of risk you're comfortable with.
0.01 Lot per Deposit: Determine the amount of your deposit allocated for every 0.01 trading lot.
GMT Offset: Set your broker's time offset to ensure accurate trading during specific market hours.
Daylight Saving Time: Enable this setting if your broker follows daylight saving time changes.
Trade on Fridays: Decide whether you want to open trades on Fridays based on your trading strategy.
Max Orders with the Same Currency: Set the maximum number of open orders allowed for the same currency in the same direction.
Comment: Add comments to your orders for tracking and organization purposes.
Night Hunter Pro EA Results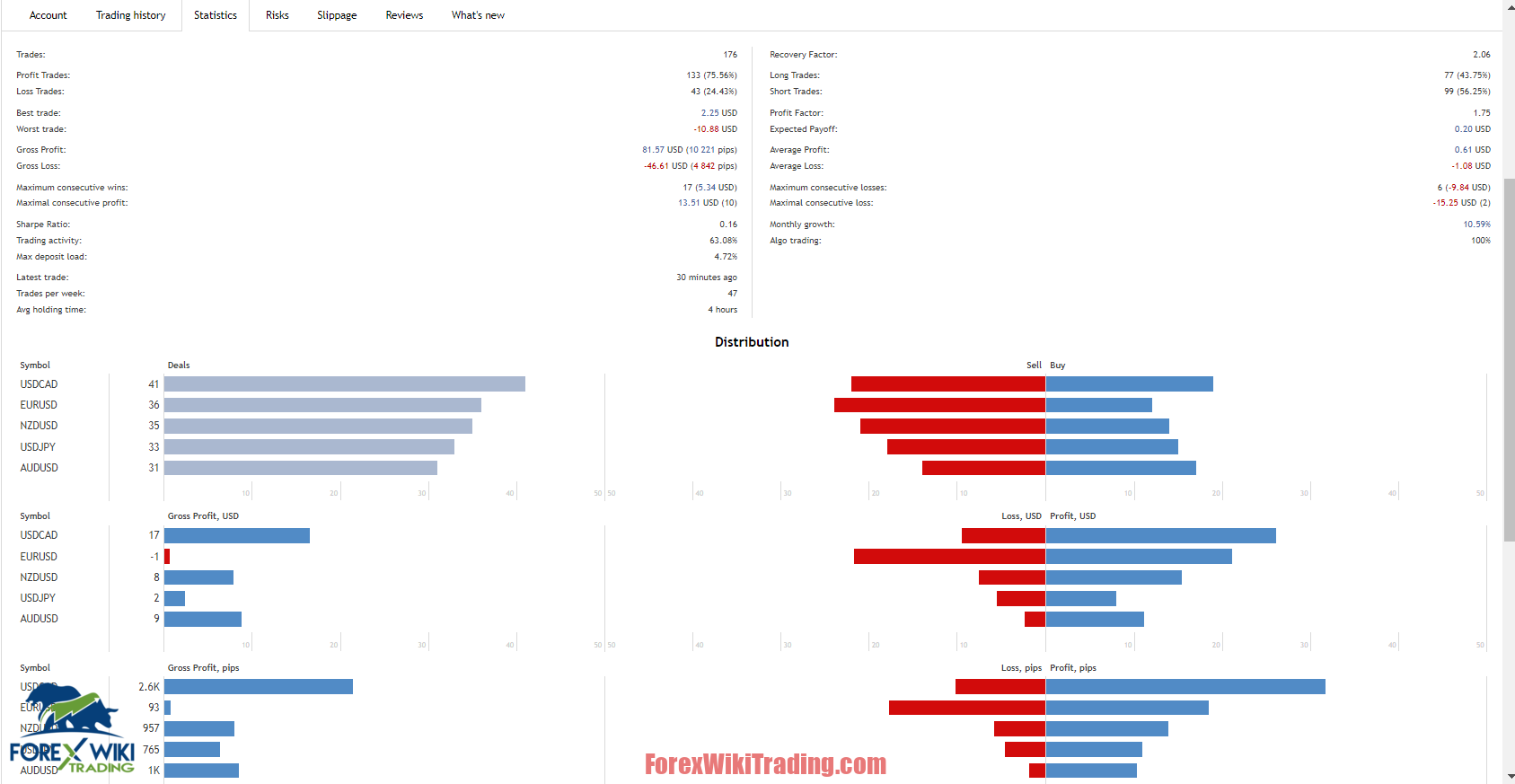 Overall Trading Activity: The strategy appears to be relatively active, with 3,776 total trades. It engages in an average of 15 trades per week, demonstrating consistent trading.
Profitability: The strategy has a 70.97% success rate with 2,680 profitable trades, indicating a strong ability to generate profits.
Risk Management: The use of Stop Loss and Take Profit is evident as it has limited the maximum consecutive loss to $62.72. This suggests a prudent risk management approach.
Profit and Loss: The gross profit of $2,264.02 USD exceeds the gross loss of -$1,835.97 USD, which is a positive sign. The Profit Factor is 1.23, indicating a profitable strategy.
Drawdown: The maximum drawdown is 44.72%, which implies that at its worst point, the strategy's balance declined by this percentage. This is something to consider in terms of risk tolerance.
Trading Style: The strategy employs both long (56.57%) and short (43.43%) positions, indicating versatility.
Performance Stability: The strategy has achieved a consecutive winning streak of 34 trades and a consecutive loss streak of 15 trades, suggesting a degree of consistency.
Growth Potential: The strategy exhibits a monthly growth rate of 1.88% and a projected annual growth rate of 22.85%, indicating the potential for capital growth.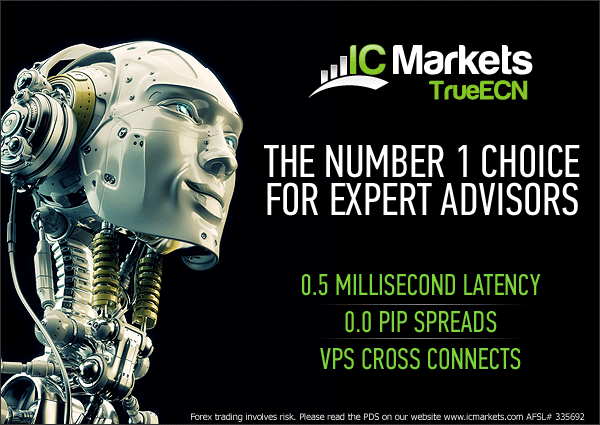 Algo Trading: The strategy is predominantly automated, with 99% of its trades executed algorithmically, which may enhance consistency in execution.
Risk-Adjusted Returns: The Sharpe Ratio of 0.07 suggests modest risk-adjusted returns. A higher value would indicate more efficient risk-adjusted performance.
In summary, the trading strategy shows promise with its consistent profitability, reasonable risk management, and potential for growth. However, it's essential for traders to consider the drawdown and assess their risk tolerance accordingly. Additionally, the Sharpe Ratio could be improved for better risk-adjusted returns. As with any trading strategy, past performance is not a guarantee of future results, and careful monitoring and risk management are crucial.
Conclusion
Night Hunter Pro EA offers a reliable, safe, and efficient solution for night scalping in the forex market. With its strict risk management strategies, versatile currency pair support, and customizable settings, it empowers traders to achieve their financial goals while minimizing potential losses. To make the most of this expert advisor, partner with a reputable ECN broker, follow the recommended settings, and stay updated with the live trading signals to enhance your trading experience. Night Hunter Pro EA can be a valuable addition to your forex trading toolkit, helping you navigate the complexities of the foreign exchange market with confidence.
Download Night Hunter Pro EA
Please try for at least a week an XM demo account. Also, familiarize yourself with and understand how this free forex Tool works before using it on a live account.
Disclaimer: All trading involves risks. It's essential to do your own research and consider seeking advice from a licensed financial advisor before making any trading decisions.